From Ancient Temples to Contemporary Houses, Brick Has Stood Design's Test of Time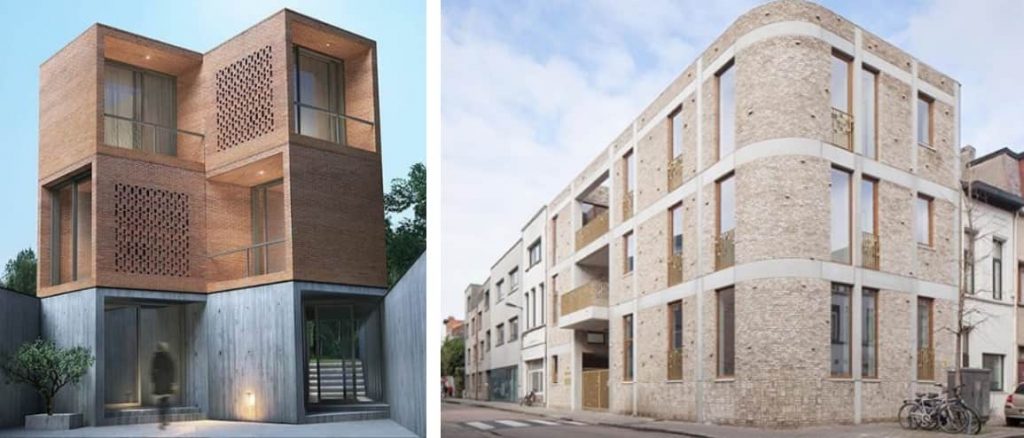 (Left) Image by @a.sana.design on Instagram, Public Domain, https://www.instagram.com/p/B3J92VjFw3i/ and (Right) Image by @burobill_architects on Instagram, Public Domain, https://www.instagram.com/p/B-d_xW6AX70
What is Brickwork?
Brickwork is a type of masonry that combines bricks with mortar, used both decoratively and foundationally for buildings around the world, from churches, mosques, and palaces to train stations, public buildings, and private homes. The ways in which bricks are laid stylistically are referred to as "bonds." Artistic brickwork can be found in the interiors and on the exteriors (as veneers) of private and public buildings as well as on floors and streets on every inhabited continent, with both historical and contemporary examples. Our brick work is some of the best in the business so feel free to check out our site honolulu-concrete.com.
A Brief History of Brickwork
Brick has been in use since the Stone Age (the period during which tools were invented) with examples still partially standing in Jericho (of Ancient Judea) and in Çatalhöyük in modern-day Turkey. Bricks of the Stone Age were dried in the sun rather than fired but were assembled in structures similarly to how brick buildings are laid today. Fired brick appears to have become popular during the Bronze Age, a time from which several ancient brick buildings still exist in Asia and the Middle East.
Select Examples from History
The Great Mosque of Herat – Middle East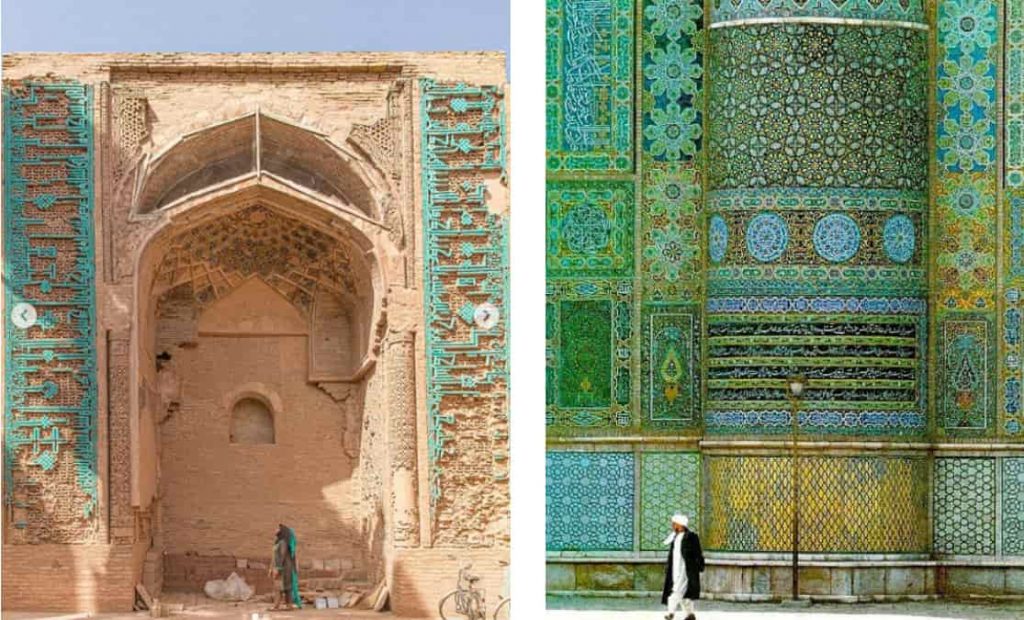 Brickwork of the Great Mosque of Herat, Afghanistan 12th – 16th century, (Left) Image by @adventuresoflilnicki on Instagram, Public Domain, https://www.instagram.com/p/BydeSzFBlqX/ and (Right) Image by @olissima_love_art on Instagram, Public Domain, https://www.instagram.com/p/Bcl6z5xFiTr/
According to the research article "Studying the Brickwork of Islamic Mosques as Architectural Decorations" by Seyed HAdi Ghouddousifar and Davoud Zarean of Islamic Azad University in Iran, brickwork has been popular throughout history, beginning very early in human history, because it "is done with simple and sharp tools." The article focuses on the stunning brickwork of Islam and Afghanistan, which was combined with tilework and adopted with such fervor because of the focus in Islamic philosophy on repeating geometric and arabesque designs. The above photos are of the Mosque of Herat, also referred to as the Friday Mosque and Blue Mosque, "contains examples of 12th-century Ghurid brick-work and 15th-16th century Timurid tilework." The mosque can be found in the Herat Province of Afghanistan.
Hampton Court Palace – Europe
Hampton Court Palace was first constructed in the early 16th century on behalf of King Henry VIII as a gift to a cardinal in the Catholic church. King Henry VII would later come to inhabit the property himself, expanding upon it through his rule. The palace is still owned by the British Crown today and has seen many rehabilitation efforts, with King William III and King George II conducting massive renovations during their periods of rule. The palace's façade is well known for its Tudor brickwork, which ornately decorates the famous chimneys pictured above on the right. The pink brick of the exterior continues into the interior of the palace, set opposite stone and stained-glass windows.
Dickinson House – North America
Dickinson House, 18th century, New Jersey, USA, (Left) Image by @the.irish.aesthete on Instagram, Public Domain, https://www.instagram.com/p/B4xEWCvhHyF/ and (Right) Image by @jhogarty_ on Instagram, Public Domain, https://www.instagram.com/p/B8HoAK5Jfrx/
The famous Dickinson House, built in 1754, is considered the most complicated example of patterned brickwork in New Jersey. The house was built for John and Mary Dickinson in the 18th century by a mason hired by the couple. The bricks were arranged on the side of the home in a series of diamonds while the front and back of the home, lacking such intricate decoration, were laid in Flemish bond.
Common Types of Wall Brick Bond
According to an article byTheConstructor.org, the most common styles of brick bond used in vertical construction are the stretcher bond, header bond, English bond, and Flemish bond. Other less common styles include the facing bond, Dutch bond, English cross bond, brick on edge bond, raking bond, zigzag bond, and garden wall bond (the last of which is popular in the UK). Some bonds, like the stretcher bond and Flemish bond, require additional masonry elements in order to stand stably.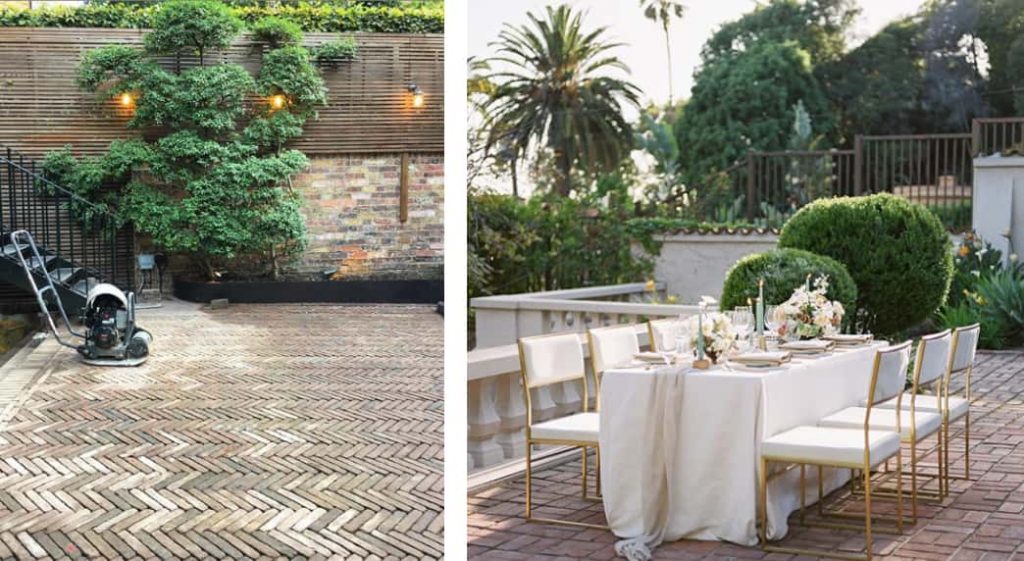 (Left) Paved Patio in Herringbone Bond (Brick), Image from @stefano.marinaz.landscape on Instagram, Public Domain, https://www.instagram.com/p/Bn3-JCTH85J/ and (Right) Basketweave Bond, Image by @hoffmanospina on Instagram, Public Domain, https://www.instagram.com/p/B60XBOtpkKi/
According to GoSmartBricks.com, the most commonly used styles of brick bond in road and floor paving are the running bond, herringbone bond, basketweave bond, and stacked bond. Each of these styles is achievable in virtually any home (aside from those in hurricane-prone areas) and provides a stunning compliment to a series of other materials, including metal, plaster, and wood.
Honolulu Concrete explains that, though brickwork is prone to issues such as "loose and cracked bricks, damp patches, and structural problems due to water leaks and molds," it "adds a touch of tradition and gives a classy and homely feel to any property." According to Turnbull Masonry, bricks remain a desirable and well-chosen building material because of their energy efficiency, durability, sustainability, heat resistance, and ability to reduce noise. A team of professionals can both lay and restore brick for those who wish to add the element to their home.
Contemporary Examples of Artistic Brickwork
Follow below for a few inspirational examples of contemporary decorative brickwork, applied to facades of buildings, roadways, and more around the world.
Twisting Courtyard – Beijing, China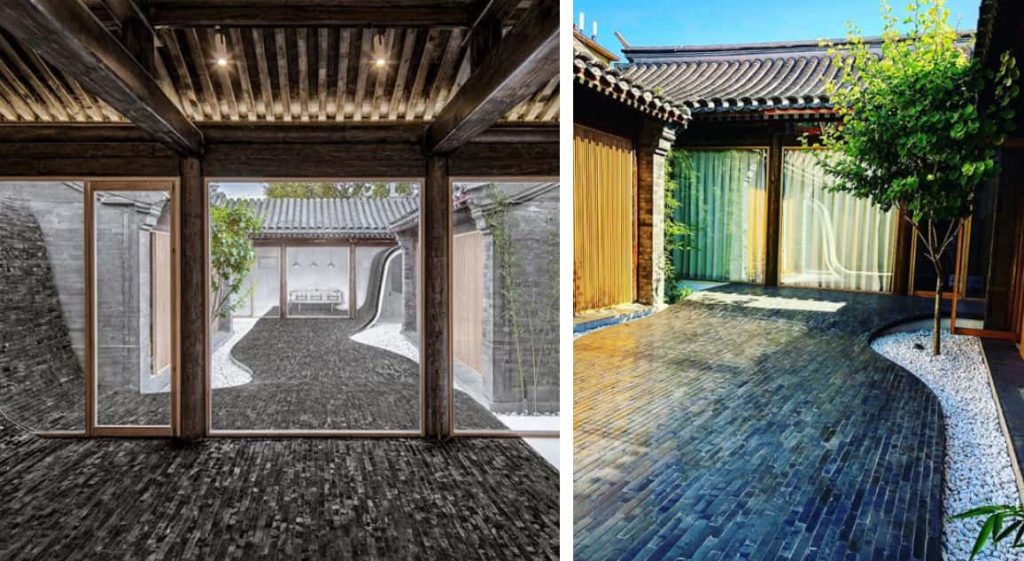 Twisting Courtyard, Beijing, China, 2017 (Left) Image from @architizer on Instagram, Public Domain, https://www.instagram.com/p/BVj9iaLjOhx/ and (Right) Image from @carlvikingsson on Instagram, Public Domain, https://www.instagram.com/p/BkrVoPHBfyL/
The Twisting Courtyard, located in Beijing, China was designed by ARCHSTUDIO for the metropolis' inner city. The brick element in this landmark exists in its undulating paved road, which, according to YellowTrace.com's Dana Tomic Hughes, "extends within the interior, twisting into walls and roof, creating a dynamic connection between inside and out."
Yves Saint Laurent Museum – Marrakesh, Morocco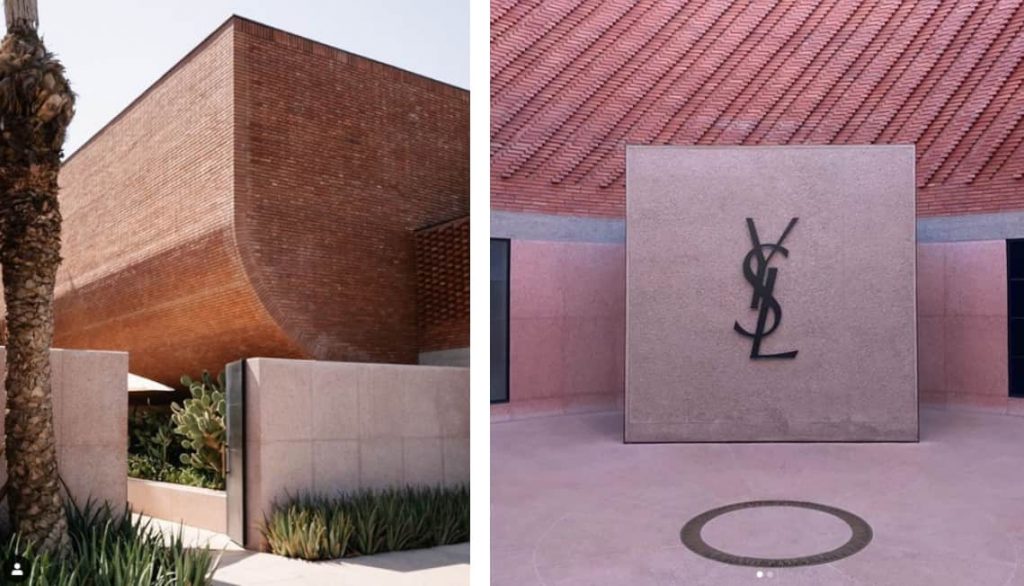 Yves Saint Laurent Museum, Marrakesh, Morocco, by Studio KO, 2017, (Left) Image from @sol_sistere on Instagram, Public Domain, https://www.instagram.com/p/CAKIAmylgqq/ and (Right) Image from @giangik1995 on Instagram, Public Domain, https://www.instagram.com/p/B_4stanK7Hh/
The incredible Yves Saint Laurent Museum in Marrakesh, Morocco was designed by Studio KO and opened in 2017. The building, constructed in a u-shape and decorated with a red brick façade, was inspired by the French designer's love of form and function. The stacking of the brick is intended to mimic lace, a material common in Saint Laurent's couture pieces. The museum has since become an international travel destination, as demonstrated in the above photos from Instagram.
Dr. Chau Chak Wing Building – Sydney, Australia
The Dr. Chau Chak Wing Building, found on the campus of the University of Technology in Sydney, Australia was designed by Frank Gehry, the architect of other famous buildings like the Guggenheim Museum in Spain, the Art Gallery of Toronto, and the Museum of Pop Culture in Seattle. The building was named after a Chinese-Australian entrepreneur who donated most of the money required for its construction. The tower consists of nearly half a million custom bricks, the final effect of which Gehry described as similar to "a brown paper bag."
Perimeter House – Abbotsford, Victoria, Australia
Finally, for one last spark of inspiration one must look no further than the town of Abbotsford on the southern coast of Australia, a mere 900 miles from Sydney. Here one may find the Perimeter House designed by MAKE Architecture. MAKE turned a dilapidated Victorian cottage into a shockingly modern home with "intricate forms and patterns that curve to suit the new condition of the site," according to YellowTrace.com.